Contact details
64-820 SZAMOCIN
Parkowa 3
tel./fax + 48 67 283 33 66
mobile: 502 329 573
e-mail: info@jakanie.net
About the therapy...
It's been almost 16 years, since, after obtaining the certificate from Prof. Lilia Z. Arutiuniam authorizing me to independently run the stuttering therapy, I started organizing camps for stuttering people.

As the only one in Poland I have a 3rd degree certificate in permanent normalization of speech, obtained in Moscow in November 2011 - taking into account the recent changes in the method of Prof. Lilia Z. Arutiunian

| | |
| --- | --- |
| prof.Lilia Z. Arutiunian | First certificate obtained in 1996 authorizing me for run stuttering therapy by Lilia Z. Arutiunian. |
The first therapy carried by me, which took place in Borzechów, was still supervised by Prof. Arutiunian, who shared her valuable tips regarding the method. I am very grateful, that Prof. Arutiunian shared her long experience with us - her students, few Polish logopedists.
The therapy itself is certainly not easy and fundamentally differs from the speech therapies carried in clinics. I do believe that the method cannot be introduced partially in clinic, as it has been done by some of the logopedists. I also claim, that the therapy doesn't work, if it is mixed with other methods.
This doesn't mean, of course, that with each passing year I don't enhance my workshop, don't experience new, more difficult cases I have never met before, which force me to seek new solutions.
I reckon, that, most of all, closely following the principles, logopedist's huge consequence towards the patient and patient's towards himself always guarantees a success.
It doesn't happen in my work, that the patient who follows all recommendations would not overcome stuttering. Of course there are situations, where patient does not follow all the recommendations and is satisfied with only a partial success. Luckily, there is not many of such people.
The first phase of the therapy is two-week camp. For 13 days the participants learn the "new speech" without stuttering based on calmness and relaxation. Their stay in Margonin serves the purpose of passing the rules necessary for fluent speech. All leave not stuttering.
The therapy is carried out as a teamwork. Children are accompanied by parents, adults by their spouses, so they can supervise the exercises at home during the following year of therapy. In individual cases the patient comes without company.
An important element of the therapy is work on one's breathing, sound production and ability to relax the body.
The ultimate goal of the therapy run by me is not only overcoming one's stuttering, but also sensitizing them to the prosody of speech, namely what makes people speak beautifully.
The whole therapy takes a year or in individual cases a bit longer. Children often forget about stuttering by the end of the camp. During the one-year therapy patients meet me every month during our meetings in Szamocin to confront the effects of the therapy.
In April 2004 I had an opportunity to meet Prof. L. Arutiunian for a couple of days to share the experience I earned during 9 years of work according to Professor's method.
Professor shared with me her latest thoughts and remarks regarding the therapy, which resulted in me gaining the II degree certificate.

| | |
| --- | --- |
| | |
| With Professor (Click to enlarge) | Second certificate obtained in 2004. |
3rd degree certificate obtained in Moscow in November 2011.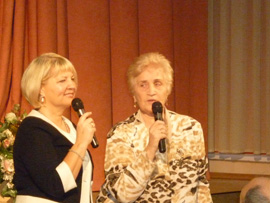 With Professor